Business Brunch
Cuban Sandwich Brunch
ABV replicates the Cuban sandwich flavors showcased in the movie "Chef". Pork is cured for a whole night, and afterward is roasted at a relatively low temperature, then the roasted pork is sliced and put inside Ciabatta bread, and together with the pork, Parma ham, salami, cheese, and pickled cucumbers are pressed together giving us an amazing Cuban Sandwich. You can also select, shredded chicken or salmon flavor.
Gallo Pinto With Skewers
Are you craving some roasted meat? We have the answers to this question and it comes in the form of Gallo Pinto With Skewers. It comes accompanied with scrambled eggs, corn chips salad and bread. Americano or black tea can be selected with this set.
Quesadilla Brunch
Quesadilla in Spanish has a close meaning related to cheese and also is a classic Mexican dish. It uses a wheat tortilla with different fillings and folded in half and ABV offers three different options. All of these options are accompanied with some corn, scrambled eggs, corn chips, salad, and bread. Americano and black tea can be selected with this set.
Caribbean Stew Brunch
What do you want to eat today? Cuban Beef Stew, Guyanese Pepperpot, "Pepian" Guatemalan chicken stew, or "Hilachas" Guatemalan shredded pork? With this option, you can pick one of them and have this stew being accompanied with some corn, scrambled eggs, corn chips, salad, and bread. Americano or black tea can be selected with this set.
"Ropa Vieja" Cuban Pulled Beef with Tajada
Ropa Vieja is one of Cuba's famous dishes. The meaning of Ropa vieja is literally "old clothes" and the reason for naming this dish like this is the similarity between this dish and strips of old clothes. This dish is stewed with shredded beef, bell peppers, olives, and onions. For the presentation, we use traditional methods and this is by accompanying the dish using either fried banana chips or cassava chips. It comes accompanied with corn chips and salad. Americano or black tea can be selected with this set.
Fajita Brunch
Fajita is classical in Mexican cuisine. In this dish, bell peppers and meat will have an explosion of amazing aromas. This dish comes with four different sauces, avocado, salsa, sour cream, and refried beans. It comes accompanied with corn chips and salad. Americano or black tea can be selected with this set.
Salad
Mexican Style Chicharron and Avocado Salad
A healthy choice for summer! Mexican-style salad will always include avocado, and then it is accompanied with tomatoes, chili peppers, corn, black beans, cilantro and other fresh ingredients. The salad also has pieces of fried pork belly. To finalize the preparation of the dish,a vinaigrette is drizzled on top. The Mexican fried pork salad is not greasy but healthy, refreshing and the colors of this dish will definitely open your appetite.
Mexican Caesar Salad
Very few people know that Caesar Salad is a Mexican invention. ABV offers you a very authentic Caesar salad while being the least dish in the Mexican cuisine.
Caribbean Steak Salad
7oz. Of sirloin steak uses a Cuban-style marinade and then put on top of a salad made of a decent amount of lettuce and a vinaigrette. This salad can satisfy the need for big bites of meat without forgetting healthiness.
Fruit Yogurt Salad
Many dishes in the Caribbean use fruits and this dish is no exception. This salad contains a sauce made with yogurt and orange juice; pineapple; orange and tomato. A dish that is quite refreshing for hot summers.
Soup
Traditional Belizean Conch Soup
Every year in October "conch season" starts in Belize, during this time, many dishes are created all over Belize using the queen conch as the protagonist for many dishes, such as conch soup, conch ceviche, or fried conch meat. ABV offers as its newest addition to the menu this famous conch soup using a type of conch similar in flavor to the queen conch, to make this traditional soup. ABV uses vegetables, plantains, coconut milk, and dough, then all of the ingredients are stewed together to concentrate all the flavors and its essence in this amazing dish.
/"Goat Water"St.Christopher and Nevis Lamb Soup
"Goat Water" is the national dish of St.Christopher and Nevis. A dish that is one of the favorites in many families, especially on Saturdays when families gather together.For this dish, the goat is simmered over low heat until tender with vegetables and spices, the vegetable caramelizes adding the natural sweetness plus roasted notes enveloping the goat, and the spices give the soup complexity and layers of flavor while adding a hint of spiciness to its mouthfeel.
"Sopa de Arvejas Ecuatoriana" Ecuadorian Bean Soup
This is a popular dish also known as "pea and plantain" typical of Ecuador in South America, especially in the province of Loja, south of Ecuador. It is said that a drought in Peru in the early days caused a shortage of food, and the people of Ecuador, located next to Peru, thought of using green plantains as an ingredient to make many types of food to relieve hunger. The ABV version of this dish combines hardy bananas and navy beans.
Sopa Paraguaya
The legend goes like this, in the mid-nineteenth century, Paraguayan President Carlos Antonio López invited a certain ambassador to lunch one day and ordered corn bisque. cake-like. When the dish was brought to the table, the ambassador complained that it was not a thick soup at all, and the president was very embarrassed at the moment, insisting that it was "Paraguayan soup". As a result, the "Paraguayan soup" has become one of the famous dishes in Paraguay.
Caribbean Coconut Seafood Bisque
The Caribbean coconut seafood bisque made at ABV uses a decent amount of shrimp heads in its cooking giving a rich, fresh and delicious flavor full of umami. This dish preparation comes with mussels, squid, Asian tiger prawn, and scallion.
Cold Appetizer
"Ceviche de Gambas" Peruvian Picked Shrimps
Ceviche is the most famous Peruvian cooking method; it uses the acidity of lemon juice to cook seafood and other kinds of ingredients like fish, shellfish, etc. ABV uses whiteleg shrimp as the main ingredient in this dish, and cooks them with a classical South American sauce, using diced tomatoes, celery, onions, lemon juice, lots of coriander, and whiteleg shrimp which is well combined making a delicious dish.
Fried Dishes
"Accra" St. Lucian Cod Fritters
Salted cod is commonly eaten in the Caribbean and was introduced to the culture of St. Lucia when explorers brought it on their ships as food. One of the most common dishes served to guests is fried codfish fritters which are crispy on the outside and soft on the inside, eat the cod fritters while hot to discover its irresistible flavors.
"Pollo con Tajada" Honduras Fried Chicken with Fried Banana's Slides
In Honduras, you can see almost every dish served with golden fried banana chips. Steaks, sausages and even salads will come with the banana chips. "Pollo con Tajada" is a dish that can be easily found in the local fast-food chain called "Pollolandia" which is everywhere.
"Salchipapa" Deep Fried Sausage & Fries
Salchipapa is a dish that is quite common in Central America. A simple entree dish, french fries are paired with European-styled sausages and topped with a large amount of sauce. This dish can be found from the Northern regions of Guatemala to the Southern regions of Peru and Ecuador; it is so ubiquitous that you can find it in bars and also fast-food restaurants. The salchipapa prepared by ABV chose Spanish Chorizo and Oregano is added for an increase in aromatics.
Fried Chicken with Green Salsa
This chicken is coated in a special mixture, then fried until the skin becomes quite crispy, the end result is perfectly fried chicken drumettes that are quite juicy too. This dish is paired with classic green salsa in which its spiciness starts mild but then its spicy level increases until it becomes quite hot.
Fried Calamari
A popular dish from ABV using fresh calamari cut into rings and then coated in a mixture; it is fried afterward giving us all the freshness that this calamari can give us. Paired it with craft beer and you will not be able to stop eating them.
ABV's Signature wings
Ordering ABV's signature wings is a strong start for the meal, a plate of signature wings will make the customers want to order this dish over and over. Not only this dish shows the essence of the Caribbean food, but also the sauce made for this dish will make you addicted to it.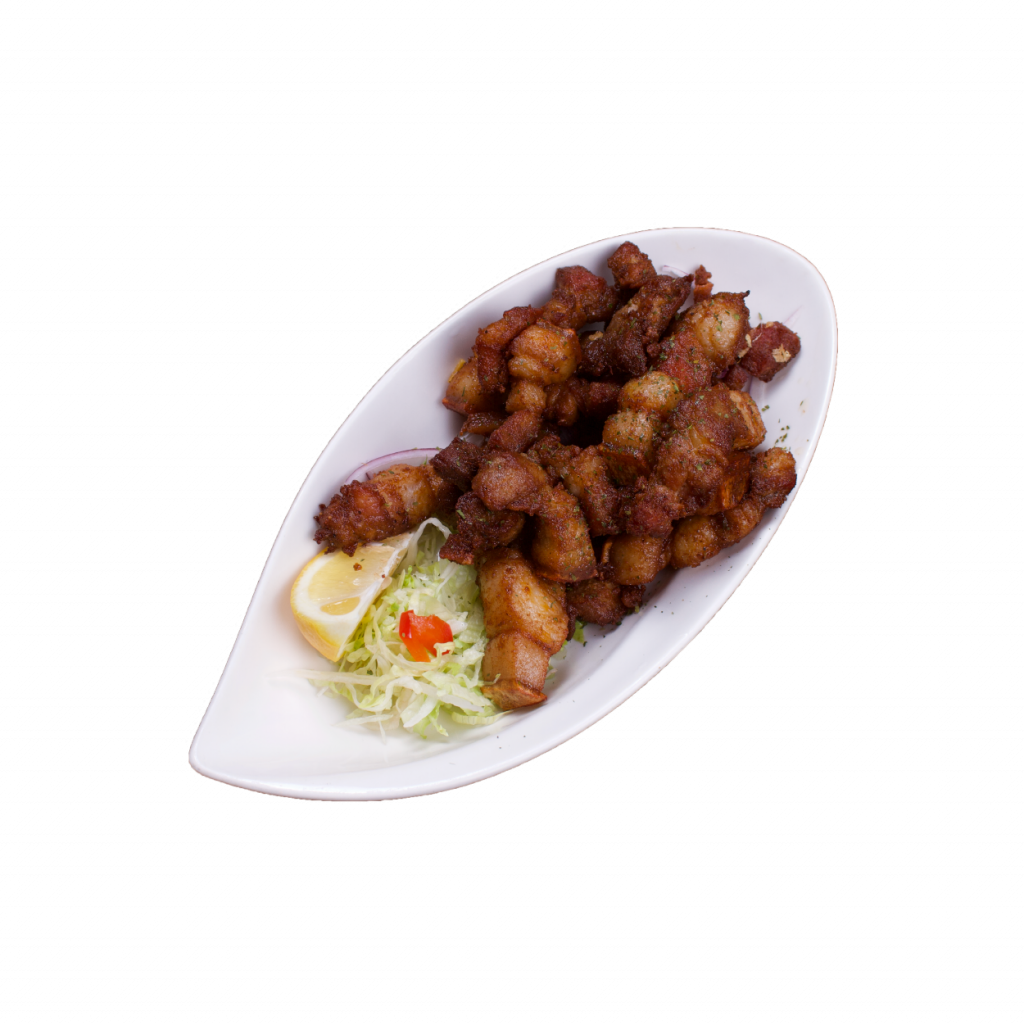 "Chicharron"Crispy Pork Belly
Chicharron is a popular dish in Peru. For this dish the pork is marinated for one day with a special recipe,the pork is fried in a pan. It has similarities with Taiwanese fried ribs, but the texture, in general, is chewer and the skin crispier. Visually it will trick us by looking tough, but fear not, when we try this pork it will be quite tender and tasty. This dish is paired with red onions and lemon to be squeezed adding a new layer of refreshing aromas.
Caribbean Stew
Traditional Belizean Fish Stew
This is a delicious coconut fish soup in which fish is first pan-fried until light-brown, then in a secondary pot coconut milk is added and bring it to a boil, then the fish that was pan-fried is added with aromatics such as garlic, the mixture is simmered until the coconut milk consistency is thicker and mixed with the fish. A very traditional Belizean dish.
"Vorí Vorí de Pollo" Paraguayan Corn Gnocchi Chicken Soup
The word Vorí comes from the Guaraní language, one of the two official languages of Paraguay, meaning "ball", in this case, it refers to a ball made of cornmeal, water, cheese, and meat broth, all combined and then kneaded together.The name of the dish repeats the word "Vorí" so when a word is repeated like in Vorí Vorí the meaning becomes plural. This is a traditional soup from Paraguay that consists of many balls of corn and cheese that are simmered in chicken broth for a long time, welcome to have a taste!
"Puchero Campeiro" Brazilian Mixed Meat Stew
The Spanish word "puchero" originally referred to an earthenware pot but was later expanded to mean any vessel in which a dish is stewed. Puchero later referred to a dish that is stewed for a long period of time.This type of cuisine is popular in Spain, Argentina, Paraguay, Uruguay, Peru, and Brazil. Each country has its own version. ABV uses the Brazilian version which is a stew of ribs, potatoes, chorizo, bacon, and butterbeans, concentrating all the flavors in one pot.
Brazilian Style Beef Cheek Stew
Brazilian beef stew is a traditional national dish, beef is readily available in Brazil, and stewed beef is a must-have dish for every family in Brazil to watch a football game; and ABV chef chooses beef cheek meat, because it is a frequently active part, so The meat is full-bodied, slightly firm, rich in oil, and has a unique flavor that makes it a good part of stew.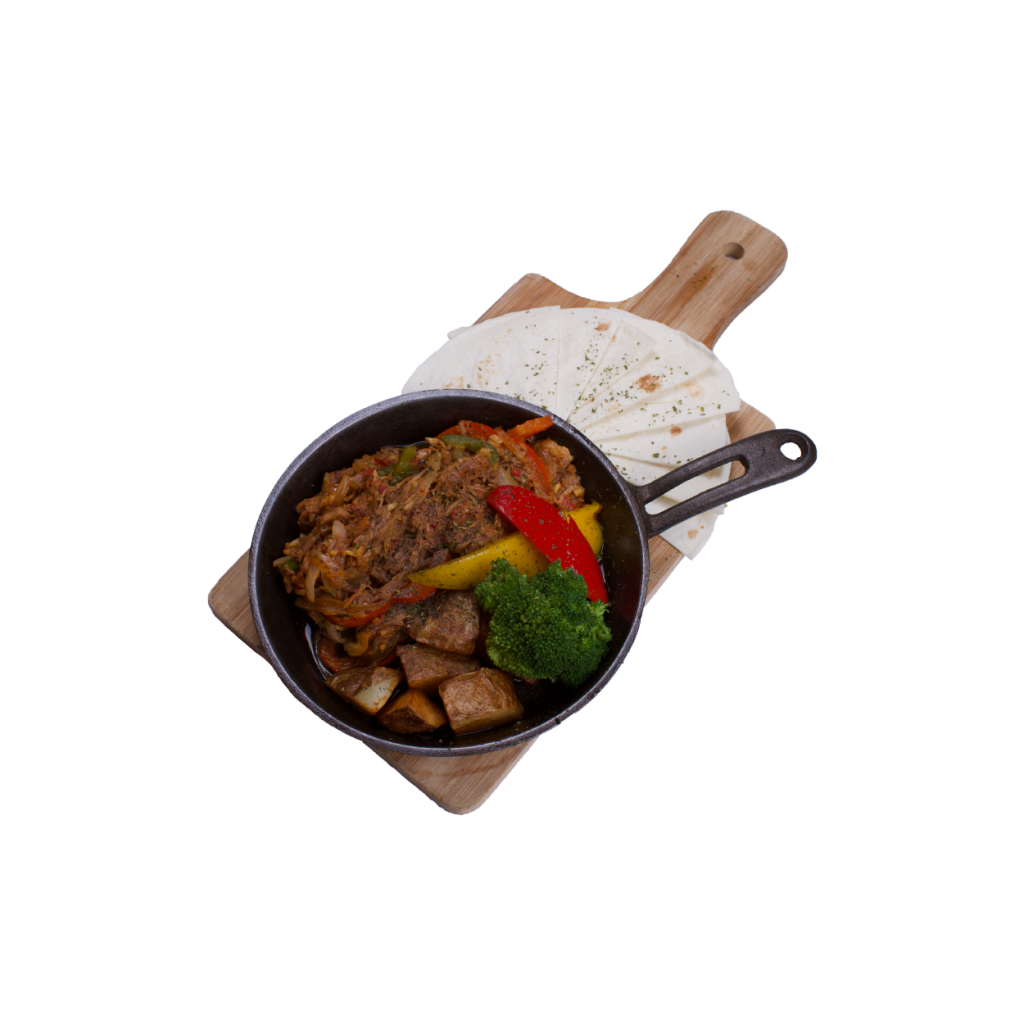 "Hilachas" Guatemalan Shredded Pork In Tomato-Tomatillo Sauce
"Hilacha" in Spanish means "Rag" and the reason this dish has this name is the meat in this dish is shredded giving a rag-like appearance. As one of Guatemala's national dishes, Hilacha is a dish that is better accompanied with either white rice or local-made tortillas. This is one of the national dishes that can be found in any restaurant.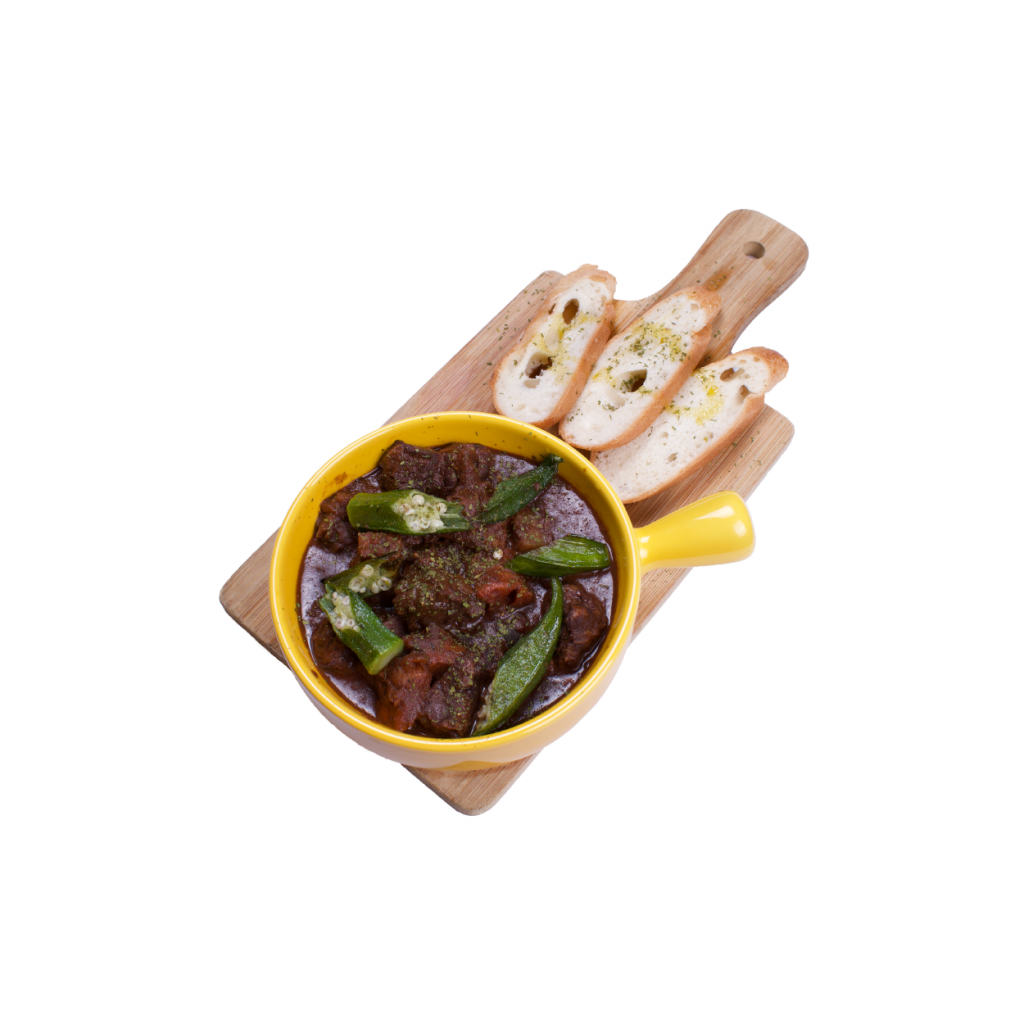 Belizean Beef Stew with Chocolate
This chocolate beef stew originated with the Mayan culture, and for the ancient Mayan people, cocoa beans were their treasure. There is even a claim that chocolate beans were the popular currency of the time. At the time, it was discovered that there was a way to make beverages out of ground cocoa beans or used as a spice adding chili and vanilla to the preparation of different dishes. At ABV, we not only use 80% pure dark chocolate, but also a chocolate-flavored Stout to create this slightly sweet and bitter Belizean Beef chocolate stew.
Guyanese Pepperpot
Guyanese stewed lamb is also known as Guyanese pepperpot. This dish is a traditional Christmas dish in Guyana and also a very famous national dish. At ABV we use lamb and a lot of spices like pepper, cinnamon, thyme, and others. These ingredients are stewed for some hours and the end result is our rendition for the Guyanese pepperpot.
Quesadilla
Ground Pork and Butter Beans Quesadilla
Quesadilla is a Mexican snack made of cornmeal and filled with cheese, but for this dish, the filling used is the same used in "Baleada", one of the most popular and cheapest street foods in Honduras. For this version, when you take a big bite you can feel the beans, pork, and the filling altogether showing some nice saltiness plus lots of flavors which is very satisfying.
Picadillo Quesadilla
The word "Picadillo" means "to cut into small pieces" in Spanish, and in this dish it refers to the concept of mincing pork meat to very small pieces. ABV combines traditional Mexican cooking techniques while creating a new Quesadilla flavor in which the crust of the tortilla is baked until crisp and then filled with cheese, minced pork and jalapeños. When you take a bite at this Quesadilla you will notice how springy and soft is the tortilla while feeling the flavors of the filling full of flavors with a nice salty taste. Very satisfying for the gourmand.
Chicken & Frijoles Quesadilla
When we talk about Mexican classical snacks we cannot leave Quesadilla out of this talk and a popular combination for the filling of this dish is refried beans and chicken. For this quesadilla aside from the chicken and the refried beans, cheese, and Jalapeños are added as a finishing touch.
Salmon Quesadilla
Let's try a new interpretation of Quesadillas in terms of flavors, for this quesadilla, we made a match in heaven with sour cream and smoked salmon. We grill the quesadilla making the cheese to melt and wrap both the sour cream and the smoked salmon having a new way to eat quesadillas.
Spinach Quesadilla
Quesadilla is a name that in Spanish can be used as a nickname for cheese since they are related and at the same time is also a classic dish in the Mexican cuisine. The wrap for this dish is folded with cheese and different fillings in it. ABV offers you three different flavors, and Spinach is one of them.
Caribbean BBQ
Grilled Shrimp Skewers with Creamy Cilantro Sauce
In South America, cilantro is used in every household to prepare dishes, and for this dish cilantro and cream are combined to make a sauce that is served with grilled shrimp. This is a great dish for parties, where you have a large skewer full of shrimps and on the other hand you have a beer. Definitely great for having fun while eating!
"Milanesa de Pescado con Maíz Asado" Fried Fish Fillet with Street-Style Roast Corn
This popular dish in Latin America, the "Milanesa" is thought to have been passed down from Italian immigrants between 1860 and 1920; it can be made from a thin slice of beef, pork, chicken, veal, or fish.
Grilled corn is a very popular Latin American street food, so ABV mixes Latinamerican-style fried fish and street grilled corn together! One bite of grilled corn and one bite of fried fish will make you feel very satisfied
.
Vincentian Chicken Wings
St. Vincent and the Grenadines is famous for its grilled chicken wings, which are a must-try at late-night restaurants. At ABV the Vincentian chicken wings are the original local delicacy guided under the direction of Alshika Latham, a private chef appointed by St. Vincent and Grenadine Ambassador.
Grilled Oysters
Oysters in which meat size is bigger than a 10 NTD coin is used in this dish. The oysters here are bathed with a sour and spicy sauce that has shredded coconut, lemon juice, tomato, and cilantro. This sauce is really good at removing any fishiness that could be perceived even people that don't dare to eat oysters could eat lots of it without noticing such flavor.
Beef Skewers
Prime-grade beef tendon marinated with Caribbean spices, served with grilled pineapple and capers, tastes full of spice.
Jamaican Jerk Chicken Skewers
Jerk is a native Jamaican cooking method that refers to the rubbing of meat with the use of Jamaican spices. For the rub, ABV uses a combination of 15 spices (smoked Jamaican spices) as the base of the flavor creating layers upon layers of flavor. To prepare the chicken first it is grilled and then coated with the rub, the end result for the Jerk chicken skewers is spiciness reaching the next level.
Chimichurri Pork Skewers
Chimichurri is a famous Argentinian sauce made with parsley, lemon juice, and garlic. Perfect for any meat dish. Chimichurri has become increasingly popular throughout Latin America in recent years, and pork skewers grilled with Chimichurri are one of the most popular ways to eat it.
Paraguayan styled BBQ
Paraguay is famous for producing beef and aside from exporting beef, we could say that eating beef is their national sport. Aside from beef and sausage related dishes, a very common dish is a corn cake called "Sopa Paraguaya", a salty pastry made with fresh corn.
Cuban Marinated Steak
For this dish, a traditional Cuban marinade is used. This marinade has oranges, cumin, and oregano, which is used on a 7 ounces sirloin steak. This steak compared to most steak's flavor shows light fruity notes, also is accompanied with some roasted garlic specially prepared by the chef, which is made into crumbles and then sprinkled on top of this dish giving a nice decoration to the dish while enhancing the aroma of the food.
Jamaican Jerk Pork Rib
Jerk, a word that is derived from the word Ch'arki in the ancient Incan language, Quechua. For this dish, allspice, scotch bonnet, and many other spices are used. ABV way of cooking the pork ribs is at a low temperature for several hours making the ribs delicious and tender and even when you take a bite from them the bones are separated immediately
"Lechon Cubano" Cuban Style Roast Suckling Pig
ABV follows the Cuban tradition of removing the suckling pig's insides and roasting it over a slow heat, then it is garnished with a huge amount of sliced bell pepper, cauliflower, and baby corn. To finish this dish salt and lemon is drizzled on top of the dish reducing any greasy feeling and increasing the delicious flavors on the dish. Come and try a very traditional dish from Cuba that often appears in festivals (Booking in advance is required)
Jamaican Roasted Pork With Chimichurri
A huge meat slab of 72 ounces, the "Jamaican Roasted Pork With Chimichurri" uses 13 spices covering its entire surface and then marinated for 48 hours. After being marinated for this period of time, it is roasted slowly for 3 hours, also the temperature of the meat at its center is 76 degrees Celsius. The meat becomes tender and is then accompanied by chimichurri. The chimichurri sauce that accompanies this dish is made with two types of spices, one is coriander and the other is oregano, garlic, white wine, and olive oil. This green sauce is the perfect match for this dish.
"Camarão na Moranga" Bertioga Style Seafood Soup in a Baked Pumpkin
At the Moranga Shrimp Festival, a traditional gastronomic feast in Bertioga, Brazil, this dish is the sole protagonist, a comfort food that combines the seasonal favorite pumpkin with a delightful creamy seafood stew; Chef ABV added cinnamon to enhance the aroma of pumpkin; the combination of cinnamon, pumpkin and seafood is a must-try combination for cinnamon fans. (reservation required 5 days in advance)
"Churrasco"Brazilian Style Barbecue
Brazil's "kiln roast" has long been a "signature food" in the minds of everyone. Because Brazil's animal husbandry is relatively developed, barbecue is a famous Brazilian food, whether it is a family dinner or a street, you can see it. Paired with Chimichurri's unique South American coriander green sauce, come and eat meat to experience the warm Brazilian barbecue culture. (reservation required 5 days in advance).
Grilled Combo
When friends are having a dinner, they can come directly to a platter of charcoal-grilled beef, BBQ Jack chicken skewers, and Argentine green sauce pork skewers, which is even more enjoyable! Barbecued pineapples, potatoes, and oiled olives, paired with our 300 types of craft beer, are very enjoyable.
Sauteed
"Callaloo" Shrimp and Vegetables Stew of Saint Vincent and Grenadine
St. Vincent and the Grenadines has a bountiful harvest of fish, shrimp, crab and shellfish, making the local cuisine all about these ingredients.
Callaloo is a traditional dish that can be found at banquets or as street food, this dish is a stew that uses fresh vegetables, leaves found on the mountain such as taro leaves or amaranth and other ingredients like garlic, onions, peppers, bananas, coconut milk, and seasonal root vegetable, then all the ingredients are stewed together until they are soft and flavorful. At ABV the dish is made using shrimps and the leaves creating an exquisite combination.

"Boulet" Haitian Style Meatball with Hot Tomato Sauc
Haitian cuisine is the combination of multiple cultures while integrating cooking techniques from those cultures, an example of this is "Boulet" Haitian meatballs that use meatballs stewed in tomato sauce quite common in European cuisine while combining aromatics and spices used in Haitian cuisine.
At ABV, "Boulet" Haitian-style meatballs are made using garlic, tomato, onion and spices which are simmered for a period of time giving the dish a unique flavor coming from the spices, and a nice richness plus natural sweetness coming from the used aromatics and vegetables. This dish is usually served with white rice or rice with beans, but is also amazing as a side dish.

"Taco Soup" Hot Mexican Ground Beef Dip
Tortilla Soup is a traditional Mexican soup made with tortilla chips that are dipped in a rich tomato broth that has garlic and onions. To the tortilla soup, locals will add avocado, coriander, fresh lemons, and other ingredients.
For the "taco soup", ABV maintains the tradition of adding spices, chili flakes, and corn kernels to ground beef, then tortilla chips are added on the side; you can dip them in or crumble the chips and mix them, a customizable and fun to eat dish.

Garlic Shrimp With Paprika
In the past, the Caribbean islands were conquered by European countries and a remnant in terms of food was this dish left by the Spanish. The powerful aromas that come from olive oil and shrimp are better accompanied by bread and refreshing wheat beer.
"Calamares Enchilados" Chilly Squids
Brazilian food culture is famous for its spicyness; in Brazil, this dish, which was originally based on Indian curry powder, is seasoned with a lot of tomatoes and black olives are added to the dish, so that the different acidity neutralizes the spiciness. This dish comes from a traditional Indian method that spread to Brazil following the large-scale voyages of the Portuguese navigating armies in the 15th and 16th centuries.
Sautéed Mushroom with Rum
Rum is the alcoholic drink that represents the Caribbean and is made with sugarcane. The typical scene in pirate movies is pirates holding a tankard of rum while drinking and singing. Well, this makes sense because wine is relatively a luxury in the Caribbean, so many European dishes are changed to a more Caribbean characteristic with the usage of rum instead of wine.
Fajita
Fajitas is a classical dish in the Mexican cuisine. This dish is cooked with a variety of bell peppers making the meat aromas explode. This dish is accompanied with the following sauces, avocado sauce, salsa, sour cream, and refried beans. It is excellent with American-style beers
Cuban Style Garbanzos and Sausage
Chickpea is one of the most important grains in India and Pakistan, and also very common in Europe. This dish, Cuban style garbanzos and sausage have the following ingredients cut to the size of a chickpea: sausage, ground pork, and bacon which are then combined with tomatoes and its sourness. Then paprika is used so the smokiness that this spice has synergizes with the sausage. Chickpeas usually shows a hint of nuttiness, especially chestnuts like flavor, which is a perfect dish for those that do not enjoy dishes based on beans because it can unveil a new world of flavors and textures.
Caribbean Style Sautéed Calm
The Caribbean seas are rich in clams and based on the traditional way of cooking clams with white wine, it is common to add tomatoes, red bell peppers, cayenne, and cilantro to add an extra layer of aromas and complexities to the oyster.
"Ropa Vieja" Cuban Pulled Beef with Tajada
Ropa Vieja is one of Cuba's famous dishes. The meaning of Ropa vieja is literally "old clothes" and the reason for naming this dish like this is the similarity between this dish and strips of old clothes. This dish is stewed with shredded beef, bell peppers, olives, and onions. For the presentation, we use traditional methods and this is by accompanying the dish using either fried banana chips or cassava chips.
Cubano Sandwich
Beef Cubano Sandwich
For this sandwich, we use roasted beef slices with Jalapeños, fresh onions, mayonnaise, and melted cheese. When you try this Cuban Sandwich you will feel the meatiness of the sandwich, with a bit of spiciness and the melted cheese.
Cuban Sandwich
ABV replicates the Cuban sandwich flavors showcased in the movie "Chef". Pork is cured for a whole night, and afterward is roasted at a relatively low temperature, then the roasted pork is sliced and put inside Ciabatta bread, and together with the pork, Parma ham, salami, cheese, and pickled cucumbers are pressed together giving us an amazing Cuban Sandwich. It is one of the most popular dishes at ABV Caribbean!
BBQ Pulled chicken
Aside from having a classic Cuban sandwich, ABV offers a version that uses a housemade BBQ sauce that has sweet, sour, and smoky notes. Chicken breast is shredded and is sauteéd together with the BBQ sauce and in this way, the chicken will absorb all the flavors having something new!
Smoked salmon
Smoked salmon doesn't make part of the sandwich mythos, but in this sandwich, we use it together with fresh onions, and sour cream. A very simple sandwich that is amazing!
Gallo Pinto,Jambalaya&Pastelon
Stewed Saltfish with Spicy Plantains and Coconut Dumplings

This dish is considered one of the best ways to showcase St.Christopher and Nevis customs, since the country has a large amount of coconut palm, thus many products utilize the abundance of coconut. Coconut cakes are made with shredded coconut, then salted fish is stewed with vegetables and spices, you can try the cakes with the fish together enjoying a world of exotic flavors.
Belizean Stewed Beans & Pigtail with Rice
When you ask the Belizean people what is the national dish? They will definitely answer you "It is Belizean Rice and Beans". ABV uses a traditional version that has pigtail, onion, garlic, thyme, and red kidney beans to make a stew full of protein and meat, the beans add a lot of flavor to the stew, and the cartilage in the pigtail will give you nice gelatin making the meat feel tender. A delicious national dish that you can enjoy.
"Arroz Carreteiro" Brazilian Street Style Beef and Rice
Arroz Carretiero is a traditional delicacy in the southern region of Brazil; it was made up of the remaining rice in the iron pot and chopped beef jerky on the last road of the caravan at that time; because of its simplicity, it has become the favorite of many travelers. Travel delicacies; and ABV chefs have added a wealth of pastoral vegetables to add interest and nutrition, allowing us to experience the situation like travelers.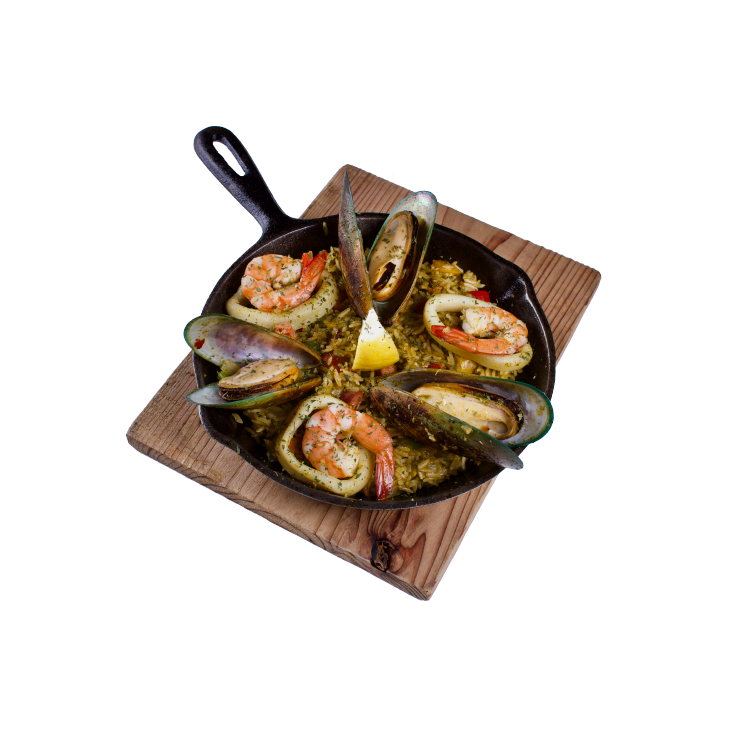 Chimichurri Rice with Mixed Seafood
Chimichurri originated in Argentina and is made with chopped parsley or cilantro, as well as shallots and lemon juice. In Argentina, it is a common flavour-enhancing sauce used with various meats. The ABV chef adds Chimichurri to the spiced rice, and also adds a lot of seafood, seasoned with Chimichurri sauce to make this dish more South American.
Gallo Pinto with Peruvian Chicken
If the Spanish word "Gallo Pinto" is translated into Chinese it will mean "Spotted rooster – 斑點公雞", and if talking about the food, the beans over the rice is like the spots in a rooster. It is a dish that is quite common in Central America and also considered the national dishes of both Nicaragua and Costa Rica. The most common food accompanied with this dish is eggs, salad, or grilled meat, but in our case, we use peruvian roasted chicken.
Caribbean shrimp with Risotto
The base concept of this dish comes from the Paella but with higher moisture content. With this dish, multiple cooking methods like Spain, France, Africa, and other countries are used. The flavors are rich and heavy. For this dish a big amount of shrimps are used so you can eat shrimps to your heart's content.
Gallo Pinto with Jerk Pork Ribs
If the Spanish word "Gallo Pinto" is translated into Chinese it will mean "Spotted rooster – 斑點公雞", and if talking about the food, the beans over the rice is like the spots in a rooster. It is a dish that is quite common in Central America and also considered the national dishes of both Nicaragua and Costa Rica. The most common food accompanied with this dish is eggs, salad, or grilled meat. For this version, Jerk pork ribs are used.
Tacos Nicaraguese
The tacos Nicaragüenses has differences with their Mexican city counterpart. The origin of this style of Tacos comes from the ancient city of Leon the northwestern part of Nicaragua. These tacos are rolled in small size filled with pork or chicken. The usual serving method is by stacking multiple rolls topped with cabbage and sour cream. A dish that is suitable as a snack or as a dinner.
Pastelon alla Bolognese
In the early days of the Caribbean after the age of exploration, flour was not produced since wheat cannot be found to make lasagna. The local residents of Puerto Rico came up with the idea of using fried banana slices to replace the pasta in the lasagna making a dish that truly belongs to the Caribbean.
Pastelon with Mushrooms and Truffle
The earliest lasagna that uses banana originated in the warm and sunny country of Puerto Rico, where early shipping was not as well developed as it is today, also the country itself is in the tropics which makes producing wheat harder and therefore flour is not available due to the weather, but is abundant in bananas and plantain which were used by housewives in Puerto Rico as a replacement for the lasagna pasta and crust, and this was done by slicing ripped plantains creating a sweet, salty, and tasty home-cooked meal.For this particular version of Pastelon, Champignon,king oyster mushroom, White beech mushroom, and truffles are used giving a rich mushroom flavor dazzling those who try the dish.
Dessert
Belizean Cassava Pudding
Did you know that in Belize, you can find bitter and sweet cassava? Bitter cassava is made into dry cassava bread, while the sweet cassava can be stewed or fried, or made into cakes.
Cassava pudding is a traditional Garifuna and Creole dessert. ABV Caribbean makes this dish using the traditional Belizean way, using coconut milk, cinnamon, nutmeg, ginger, sugar and butter.

Banana Quesadilla
This is quite different from the typical Quesadilla because of the sweetness. This quesadilla comes with banana and peanut flavor. In recent years Mexican street food has flooded the streets of Europe and the United States having vending carts selling Tacos, Burritos, Quesadillas, etc. and due to this trend and the combination of flavors this flavor was born. Cheese and various ingredients inside the Quesadilla were replaced with peanut butter, bananas, almonds, and chocolate. Aside from having this Quesadilla we also accompany the dish with vanilla ice cream!
Handmade Brownie with Ice Cream
Brownie was a beautiful mistake made by a pastry chef. This chef forgot to add baking powder to one dish making it dense and with a thick mouthfeel. Combining the strong aroma of chocolate and vanilla ice cream will create an eternal loop of flavors and aromas.
Rum Cake
A syrup made with white wine, brown sugar, rum, and cinnamon powder accompany a chiffon cake that has a crispy crust and a rich inner texture, also having some plum inside the cake. All these combinations elevates the cake flavor to the next level.