Salad
Salad with Chickpeas & Vinaigrette Dressing
A key ingredient in Mediterranean and Middle Eastern cuisine is chickpeas. Mature chickpeas can be cooked and served cold in salads, making them a delicious but also a nutritional ingredient.
ABV serves a nutritious and hearty lettuce salad, using fresh and crisp seasonal lettuce with chickpeas, Italian sausage, and an Italian vinaigrette tying up all the flavors making this salad delicious.

Octopus Salad with Pesto Vinaigrette
This dish uses green sauce (Pesto) with oil and vinegar sauce, sour pickled beetroot and other refreshing appetizers, and is paired with comprehensive seafood freshly caught by fishermen in Sicily. It is a good choice for an appetizing and large salad.
Classic Caesar Salad
Caesar salad was invented by the Italian Chef Caesar Cardini in Tijuana, a city in Mexico located near the US-Mexican border. On July 4th of 1924, in order to deal with many tourists from the independence of the United States of America and in a hurry, Chilean students of the chef used whatever ingredient could be found in the kitchen to prepare a salad! Combining American, Mexican and Italian-style salads to give birth to this Salad. Simple yet delicious, one of the best choices to start a meal for many people!
Fruit Salad in Grapefruit Vinegar Yogurt Dressing
This salad uses grapefruit yogurt as a salad dressing, which is sour and sweet, with a light grapefruit aroma on the finish. At the same time, a variety of fruits such as peach chunks and grapefruit slices are also added to bring a refreshing taste to the hot summer!
Soup
Creamy Italian Seafood Soup
Apart from the cities of Naples (Napoli in Italian), early Italian cuisine tended to be flavored with dairy products and so this Creamy Italian Seafood Soup can also be considered either an Italian seafood stew or bisque.The chef at ABV simmers shrimp, clams, and cuttlefish in a broth with a white sauce, then puts some garlic bread cubes into the broth before serving this traditional Creamy Italian Seafood Soup.

Pumpkin Soup with Clams
This clam and pumpkin soup is made with hand-made spices, stock, and pumpkin. It is paired with clams to combine the umami of the sea with the sweetness of the land. It is eaten with bread to make your index fingers move!
Cold Tapas
Smoked Salmon Platter
Just by curing or smoking salmon, rich fats will become more apparent. this fat will make the salmon feel even tastier. Smoked Salmon platters are a famous appetizer, and we also add nuts to this platter. You cannot miss this traditional Spanish appetizer before beer and other dishes come to your table!

Spanish Chorizo Platter
Chorizo also commonly known as Spanish sausage. This type of sausage originated in the Iberian peninsula typically uses pig intestine as casing.There are different varieties of Spanish chorizo and also you can order them cooked or not. The Spanish chorizo after cured is smoked and for the seasoning, bell peppers are used too. This sausage or chorizo is quite versatile, you can use it in cooked meals and also as a cold appetizer!
Cold Ham and Cheese Platter with Pistachio
Brie, one of the kings of cheese is wrapped with ham. This platter comes with nuts and with bittersweet sesame leaf, and finally the whole dish is drizzled with balsamic vinegar. When you try this dish you will feel as the flavors from the ham and the cheese becomes one and then the balsamic vinegar with the sesame leaf compliments the fusion of the flavors.
Cheese Platter
Who says that cheese can only be accompanied by wine? Brie, Fetta, Smoked cheese, and blue styles of cheese have their own suitable beer, so you can pair four types of cheese with four types of beers!
Indian-Style Yogurt Dip with Pita
In India, a salty yogurt called dahi is used as a base, with diced gherkins, cumin, mustard seeds and fresh herbs. For the pocket cakes, ABV uses the taste of ground cumin and the acidity of pickled cucumbers to make Salty yogurt is more appetizing and delicious when paired with pocket biscuits.
Salami Platter
Salami or its most common name, Italian sausage due to the similarity it shares with sausages by having lean meat and fat meat grounded at some specific proportion. It is first fermented and then black pepper, wine, and paprika are used to cure it. Due to its fermentation and curing methods, salami is different from chorizo in both flavor and mouthfeel.
Penthouse's Cold Assorted Platter
The classic continental cold dish will give you a huge satisfaction with just one try! It includes chorizo, smoked salmon, salami, parma ham, assorted cheese, and mixed nuts. Served with delicious Greek eggplant dip.
Fried Dishes
"Bacalao Frito" Fried Cod FishSpanish Deep Fried Pork Roll
Bacalao has been used since ancient times and to use it people usually cut the Bacalao into pieces or slices and then soak them in water to soften the meat before frying. Nowadays, modern refrigeration helps cod stay fresh which is then cut into large chunks, fried, and served in paper cones on the streets of any old town, making it Italian street food. ABV serves Italian fried cod accompanied with a garlicky Aioli.

Deep-Fried Cheese & Maccheroni Cubes
Crispy Fried Elbow Noodle Thick Cheese Bricks is a traditional Italian snack. The macaroni and cheddar cheese are fully mixed with chipotle peppers, boiled with milk until thick and shaped, and then coated with bread flour and fried. Crispy on the outside and soft on the inside.
Italian Prawn and Chickpeas Fritters
A classic recorded in the history of Roman gastronomy, it is special in that it is made with whole chickpeas, fresh coriander, dill, wrapped in shrimp meat and fish paste. The crispy and non-greasy flavor of fried dumplings is often served as an appetizer for Italians.
"Croquetas de Jamon" Spanish Jam Croquettes
The croquette is a type of country food commonly found in Spain that every Spanish mom will prepare. This dish is made usually with a mixture of leftovers that a family had produced. The Spanish croquette we made has a rich milk aroma and also stuffed with ham. It is a traditional but delicious snack.
ABV's Signature Chicken Wings
Using the popular cooking technique in today's food industry, the Cajun cuisine techniques impart a woody aroma and flavor to fried chicken wings. For this dish, buffalo chicken wing sauce is added making it ABV's signature dish, these fried chicken wings have become the number 1 in popularity!
"Patatas Bravas" Spanish Fried Potatoes
In the 16th century, potatoes were brought to Europe by the Spaniards. Fried potatoes have lots of variations, for example, french fries, potato croquettes, etc. but Spain's most famous variation in fried potatoes use two different sauces giving different names to its variation: Patatas bravas and Patatas Aioli. At ABV we use patatas bravas which uses tomato sauce and Aioli. A bite of a potato wedge and a mouthful of beer is the most marvelous snacks out there!

"Huevos Rotos" Spanish Broken Egg Fries
We fry the french fries until crispy, then fried eggs with half-cooked yolk are added on top of the fries with some parma ham giving an additional flavor. It is a very local dish in Barcelona as an ideal drinking snack!

Hot Tapas/Seafood Tapas
Sauteed Spicy Potato & Shrimp
The potatoes including the peel are first cooked and then sautéed with onions, fresh shrimp, and then white wine is added to bring out the freshness and sweetness of the ingredients. Before serving, the whole dish is drizzled with a special spicy honey cream sauce made by the ABV chef. Definitely a must-try dish with layers and layers of flavor.
Shrimp Cakes With Creamy Caper-Dill Sauce
Shrimp pancakes made with plenty of plump prawns, paired with the chef's special yogurt and dill sauce, not only retains the refreshing and rich taste of sour cream. At the same time, the aroma of dill also adds to the flavor of the prawn pancakes.
Macedonian Sausage
This dish is a traditional food in North Macedonia, Greece. It is said that it has been handed down from the Ottoman Empire to the present; ABV chef's specially selected smoked calf intestines reproduce the original taste of local ingredients, so that you can eat full of Greek style.
Sausage in German Dark Beer
ABV selects appetizers, using the unique dark roasted wheat aroma of German dark beer and the spice of Spanish red pepper powder as the main axis, and then stir-frying with carefully selected spicy sausage.
Skillet Seared Salmon with Garlic Lemon Butter
The cooking method for this dish is similar to the Italian way of cooking anchovies with sauteed shrimp. The base of the dish is a large amount of olive oil and garlic. Lemons, butter, and thyme add a nice and elegant sweetness to the oily salmon, and at the same time, the meat of the salmon is cooked perfectly giving us its tenderness and juiciness.

"Gambas al Ajillo" Spanish Garlic Shrimp
When anchovies are left with lots of oil, the flavor and umami of them will increase. This ingredient was invented on the coasts of the Mediterranean. In fact, in the Mediterranean and Italy, this ingredient is used to increase the freshness of the prepared dish. In our case for this specific dish, "Gambas al Ajillo", aside from using anchovies, we use a lot of olive oil and lemon juice as an added flavor.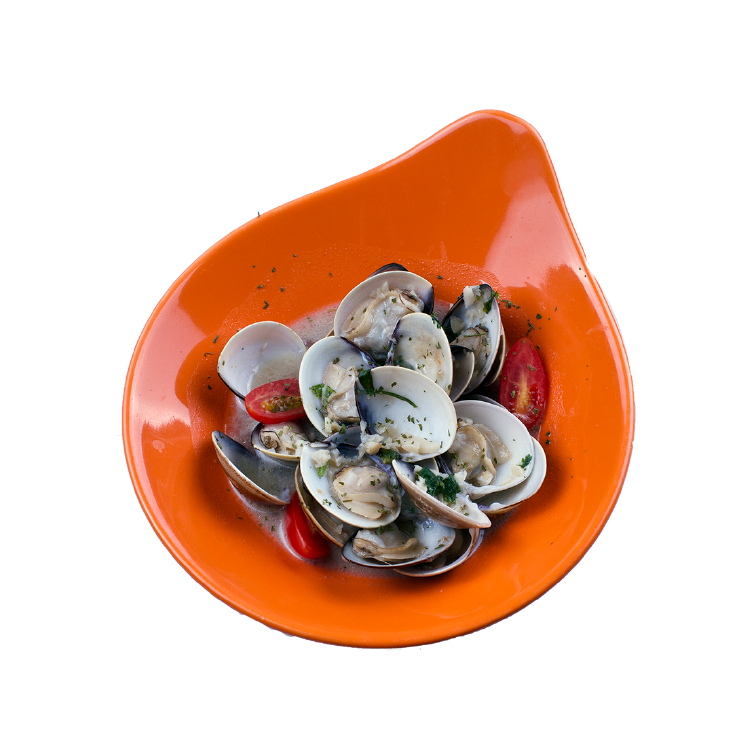 Sautéed Clams with Sherry and Garlic
Spanish Sherry uses the Palomino grape-type as part of the regulation for the production of it, and also it is produced and special location for it to receive the name of Sherry. In Spain Sherry is commonly used for pairing Tapas, but we use Sherry to give a unique aroma to clams, so we have it as a nice and aromatic appetizer.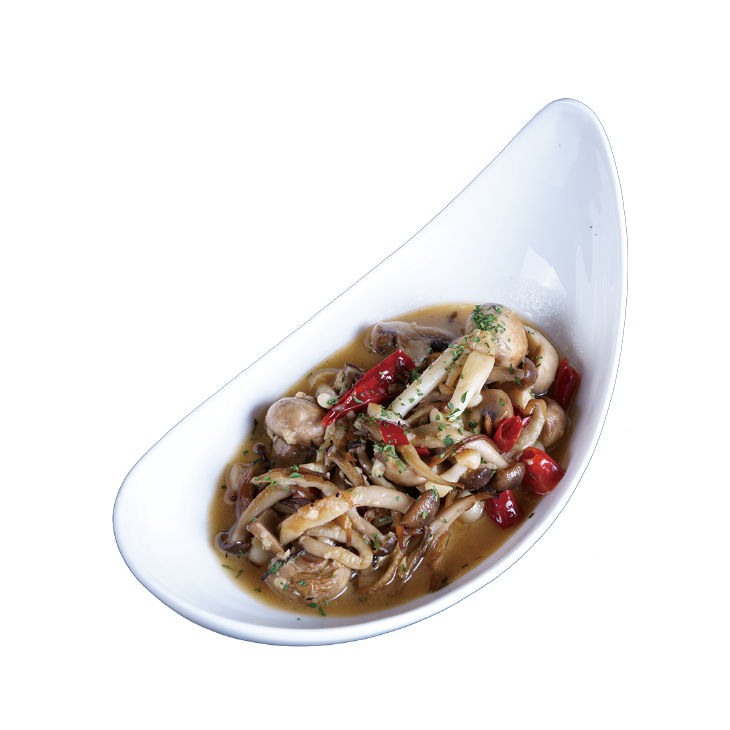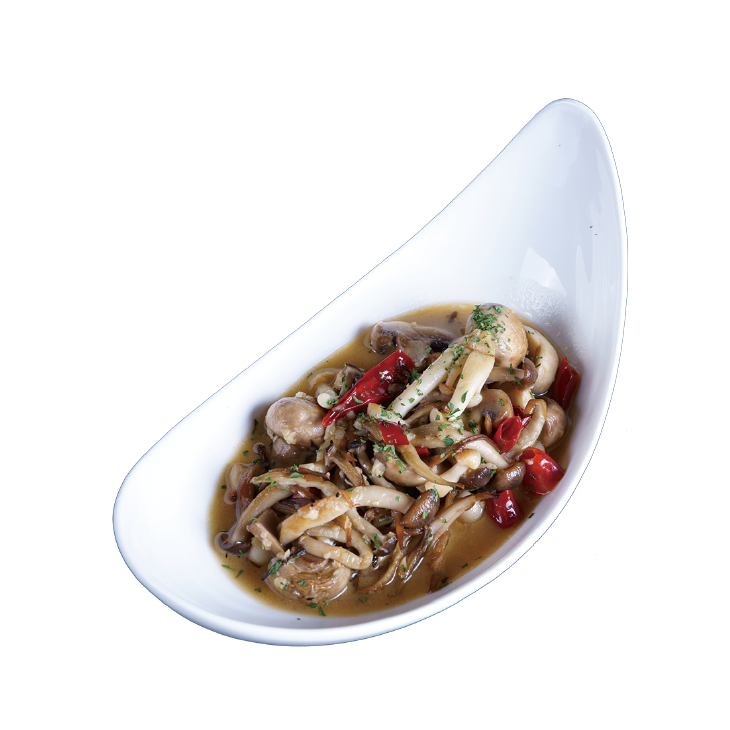 Sautéed mushroom with Sherry
Sautéed mushrooms come from the capital of Spain, Madrid. Nowadays you can find this dish all around the bars in Spain. The most special part of this dish is the Sherry aroma that appears and it doesn't matter if you eat it by itself or use bread to soak the sauce per se, the flavor is always marvelous.
Sautéed Mussels with Garlic and Butter
Chef ABV chops and sautés garlic until fragrant, then adds seafood to stir fry, and seasons with white wine and smoked bell pepper to create a rich cream sauce; in Belgium, garlic cream sauce and white wine are very common pairings, and such a pairing will be next to it. Served with crispy toast.
Portuguese Sautéed Shrimp
Portuguese dishes often combine seafood with garlic, chili, thyme, and Q-bombed grass prawns, topped with ABV's homemade prawn broth, refreshing lettuce mixed with rich prawn juice, or eaten with toasted bread. A delicious appetizer with umami.
Galician-Style Roast Octopus
Galician octopus is a traditional delicacy spread throughout Europe and is a common dish in tapas restaurants and pubs in Spain. The sturdy grilled octopus is soft and chewy with a bit of bite. The soft and tender octopus with the aroma of rosemary and the flavor of smoked bell pepper is a delicious appetizer.
Smoked Salmon Dip with Pita
Who doesn't love a nice smooth and aromatic sauce? At ABV we offer a special sauce made by the chef by having smoked salmon, baked cheese and Jalapeño. It is paired with an excellent Pita bread with a sauce that shows both a nice spiciness and smoothness that is perfect to go with alcohol.
Stew & Grilled/Party
Grilled Calamari Stuffed with Chopped Vegetables and Fregola
This dish is inspired by a Turkish dish known as Dolma which also means "to stuff", also this dish may have spread throughout Eastern Europe and the Mediterranean after the Ottoman Empire conquered the Eastern Roman Empire. At ABV the chef stuffs a whole cuttlefish with diced vegetables, capers, anchovies, and Fregula, a type of pasta that looks like small pearls, and after the calamari is stuffed it is grilled and served with a lemon cream sauce. After the first bite, you will notice the variety of flavors and textures, as well as the richness of the ingredients, simply astonishing.

Hungary-Style Spicy Fish Stew
Hungary is a landlocked country, and since there are no huge marine resources, Hungarians consume a lot of freshwater fish, including carp, catfish, and perch. As a result, Hungarian fish dishes are to be treasured for their uniqueness.
A local specialty called halászlé or Hungarian fish stew is a hot and spicy fish soup using freshwater fish and chili powder on its base, which gives the dish a bright red color with some heat to it due to a large amount of Hungarian chili powder used. ABV keeps the traditional cooking method by adding a large amount of Hungarian chili powder to the broth, along with dried peppers, and then taking the broth to a boil, afterwards, the perch is added to the boiling broth.

Braised Beef Cheeks in White Wine
A delicious beef cheek stew that requires at least 3 hours in both the stewing and the trimming. At ABV the chef first sautées the beef cheek over high heat, then is stewed for a long time until tender in white wine to impart some of the white wine aromatics, then root vegetables such as beet and carrot together are added and simmered integrating all the flavors into the vegetables, just delicious.

Roasted Beef with Anchovy Butter
Marinated with a big amount of spices, such as rosemary and thyme for a whole night. After roasting the beef, the meat will be full of rosemary flavor and aroma. This dish is paired with a special made mashed potatoes with green sauce, broccoli, roasted king oyster mushroom, and other vegetables. Have a nice bite of meat and at the same time taking care of your nutrition!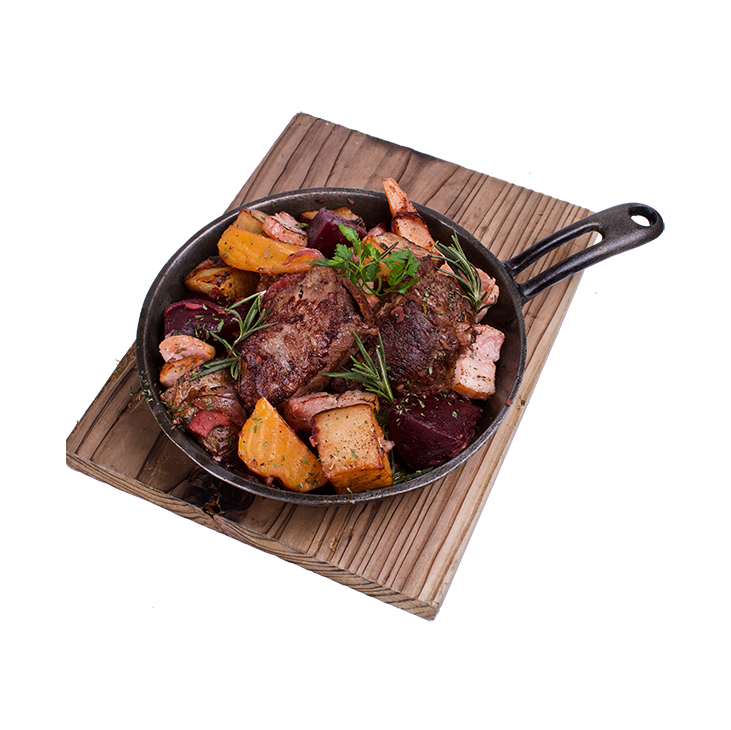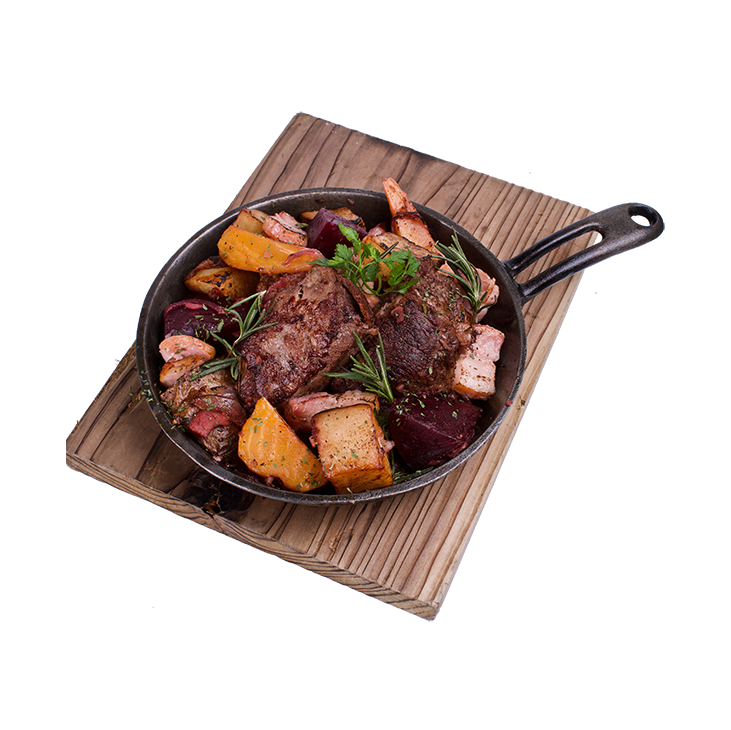 Brazilian Roast Lamb
High quality lamb shoulder meat and low in gamy flavors is selected and then stewed with red wine and fennel stem until it is tender. The fatand oil that comes from the shoulder makes the flavors rounder and at the same time you can taste the natural flavors and sweetness of the meat, and to finish the dish a sauce made with lamb bones, spices and red wine is drizzled on top of the meat making the flavors rich and covering the table with the nice aromas of it!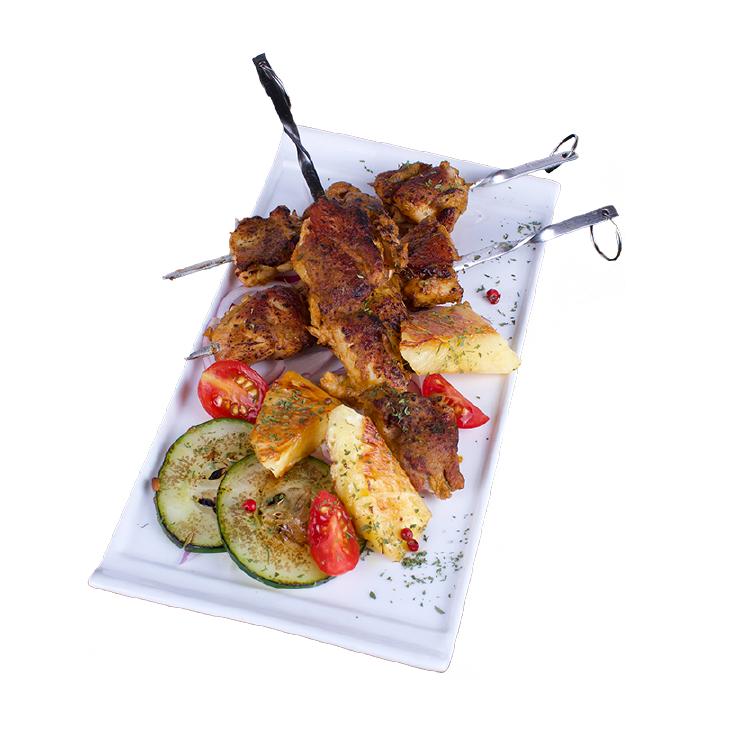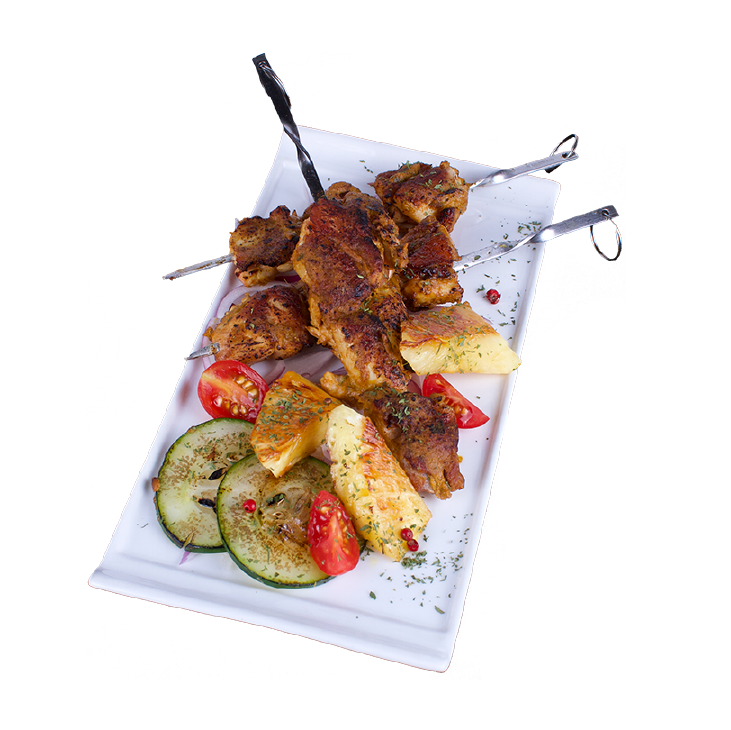 Chicken Satay Skewers
The chef makes a special satay sauce in which its unique flavor is suitable to marinate meats or as a sauce, and in this case tender meat from the chicken leg is used for the skewers, the combination shows a spicy but aromatic flavor, letting you try a different type of satay.

Moorish Pork Skewers
Moro is the given name to Muslims at the Iberian coast and northern Africa. Although in the middle ages, around the 15 century, the local regime changed frequently, the food tradition remained. The usage of Muslims cooking methods with pork, a meat that is not eaten by muslims is definitely a cultural impact! Paprika with cumin and sherry gives an amazing aroma and flavor that will make you enjoy your meal to a greater extent!

Beef Skewers with Lemon Anchovy Cream
Meat skewers source is from the middle east, and this has lots of varieties in terms of flavors. At ABV we marinate beef skewers by using cumin and cardamom. This skewer is paired with a delicious and refreshing lemon anchovy sauce, so you can try with one skewer flavors!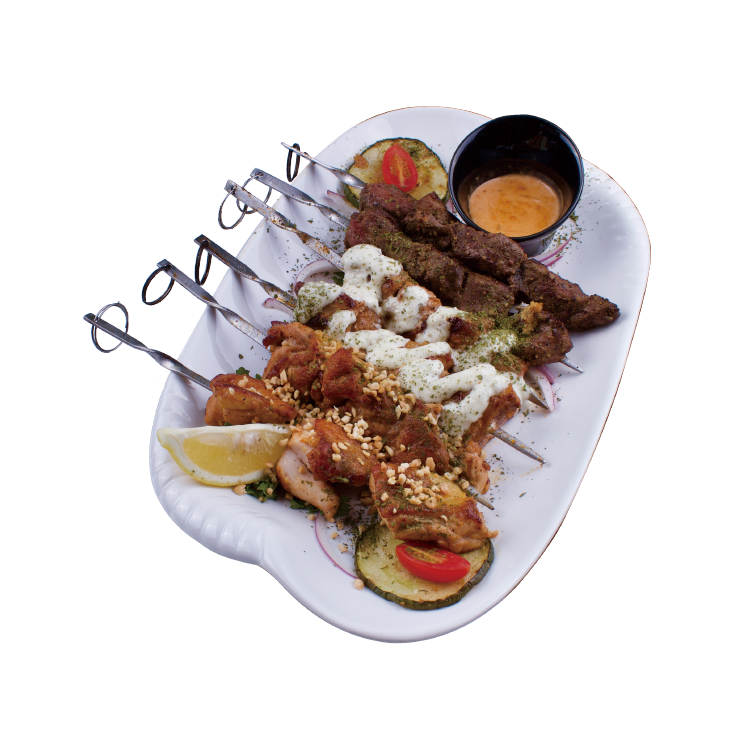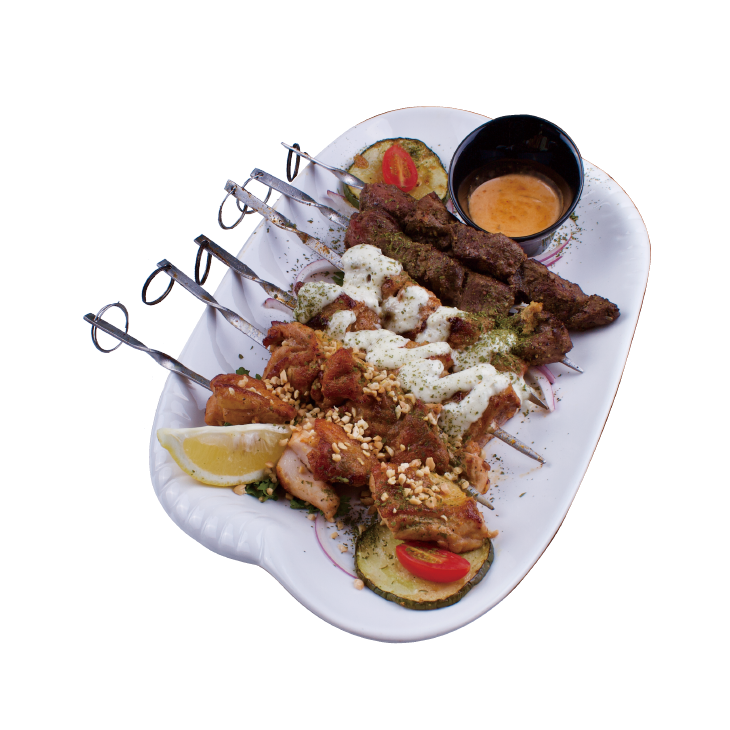 Grilled Combo
When good friends gather for a dinner party, just get an order of beef skewers, Cayenne-styled chicken skewers, and Moorish pork skewers platter. This way is even more enjoyable! It will come with two different sauces, the lemon anchovy sauce, and tartar sauce. Do not forget to try its original flavor first and afterward you can start pairing them with different sauces, this way you can increase variety and level of flavors. Last but not least, the best way to pair all this food is by having one of our more than 300 beers in our selection.

Fried Combo
Party, party, party! How do we make a dish fancy enough when we have lots of people?! For this combo platter, we use our specialty which is the fried chicken wings, we add french fries, and finally Spanish croquettes. It is a must-try!

Spaghetti
Spaghetti with Mushrooms & Chicken in Pesto
Pesto is a sauce native to the capital city of Genoa in Liguria, Italy, traditionally consisting of crushed garlic, pine nuts, coarse salt, basil leaves, and hard cheese mixed with olive oil. AT ABV the chef uses the classic Genoa pesto with mushrooms, chicken, and Spaghetti, making the combination of the herbs and garlic the perfect match for the mushrooms and chicken.

"La Sopa Seca" Peruvian Spaghetti with Dry Chicken Soup
At ABV the Sopa Seca is done by taking its essence, that is mixing the cooked pasta with Pesto and cook until it gets dry, then for the chicken part, the chicken is cooked using the same method as the Carapulcra including various peppers and spices to make a Peruvian hot sauce and at the same time potatoes are added cooking everything altogether, and to finish the dish combine the pasta with chicken to complete this traditional Peruvian style pasta known as Sopa Seca! A delightful dish you will want to taste.

Spicy Soft Shell Crab Spaghetti in Tomato-Shrimp Sauce
The red sauce from Naples, southern Italy, is paired with soft-shell crabs, anchovies and kung pao peppers are added to stir fry quickly, revealing a spicy and rich taste. Serve immediately.
Sicilian Pesto With Almonds and Tomatoes Chicken Spaghetti
Oeli flavored sauce from the Oeli Islands in Italy, mainly made with capers, tomato sauce, basil, almonds and other ingredients. The rich nutty flavor is paired with the balsamic red wine vinaigrette to make the sauce more mellow and delicious, and the homemade garlic chicken thigh steak is a generous and appetizing dish.
Grilled Squid Spaghetti in Squid Ink
A whole squid is placed directly in the stove and then it is roasted at high temperatures in this way the squid retains the natural rich flavors and sweetness. The squid is served with spaghetti that has a sauce made with squid ink adding rich umami to the whole dish and when we try the dish itself we will feel the flavors from the sea, the rich umami and delicious flavors of the dish.

Spaghetti alle Vongole in Bianco
Classic seafood pasta; Spaghetti is one of the pasta we eat most often; and seafood such as shellfish is a symbol of umami, with a chewy texture but a plump soup that is classic and delicious.
Conchiglioni
Creamy Parma Ham Conchiglioni
A white sauce is a symbolism related to the white color in the Italian flag. The source for this sauce comes from traditional European cooking using butter and cheese.ABV combines smoked salmon, jalapeños, and basil, pairing it with a white sauce giving you a different experience!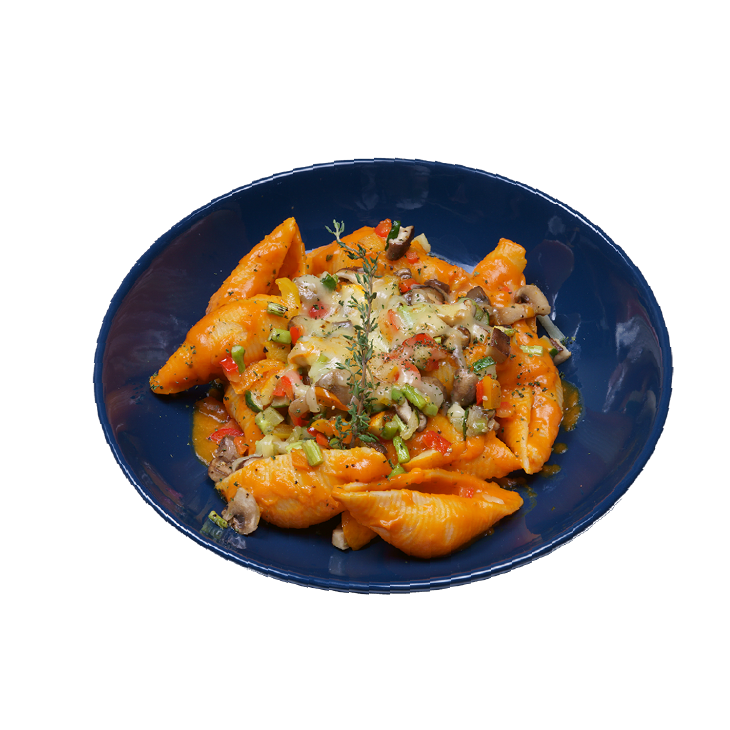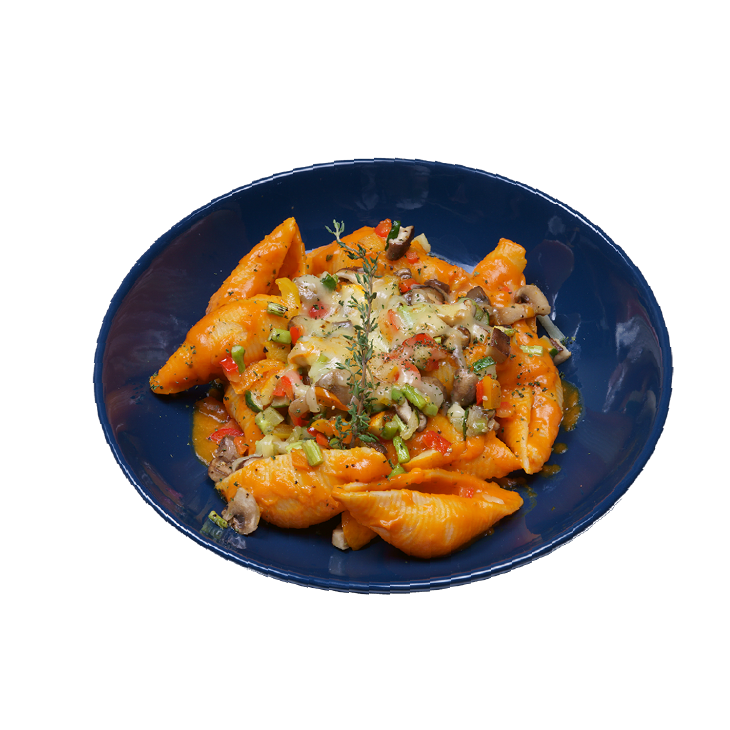 Veg Pumpkin Pie Conchiglioni
Pumpkin is an ingredient that is favored in the countryside of many European countries. One of the protagonists during Halloween, the pumpkin, is rich in sweetness and nutritional content, so we made a special sauce using pumpkins and then combined it with a classic white sauce, then some grated parmesan cheese is sprinkled, and with a blowtorch to melt the cheese enhancing the aroma and richness of the whole dish.

Conchiglioni with Cheese & Shrimps
Conchiglioni can be prepared in different ways aside from sauteing, and many clever chefs use them as the container to bake other ingredients. ABV fills the shell noodles with shrimp and then topped with cheese, afterward is baked, becoming a beautiful, delicious, and flavorful one biter.

Paccheri
Vege-Paccheri with Broccoli & Mushrooms in Cream Sauce
Padano Cheese's Italian Béchamel Sauce, with stir-fried broccoli, bell peppers, mushrooms and other fresh vegetables, is a healthy and unburdened vegetable pasta.
Paccheri with Grilled Porkchop in Port Wine Sauce
Thick pork chops are marinated in port wine and grilled to the perfect Mena reaction, served with balsamic vinegar, served with red Napoli sauce and paccheri.
Paccheri alla Norma with Roast Octopus
Originating from Sicily, it is a fairly traditional pasta dish. The three most important ingredients: eggplant, tomato, and salty cheese, are inseparable from the famous work "Norma" by the Italian playwright Vincenzo Bellini who was born in Catania. Someone was amazed when they ate this side in a restaurant and thought it was as moving as the opera "Norma", so they said "This is Norma!"
Paccheri alla Sardines
ABV is mainly based on sardines, combined with a variety of seafood, and the very distinctive paccheri, combined to form this typical fisherman's dish, the paccheri are full of the umami of sardines and seafood when cooking, it is worth a try .
Fettuccine
Fettuccine Napoletana with Shrimp and Sour Cream
Did you know that Napoletana sauce refers to the collective name for the basic Italian tomato sauce? The historical use of tomato as a base sauce is recorded in the Italian cookbook Lo Scalco Alla Moderna published in 1696 and written by the Italian chef Antonino Latini when he was serving as steward to the Spanish governor of Naples. The classic fettuccine Napoletana with Shrimp and Sour Cream is a combination of the classic tomato red sauce and pasta, and the reason for using fettuccine is to let the umami of the shrimp with the tomato red sauce become perfect altogether showing us the history that this Neapolitan tomato sauce has.

Seafood Fettuccine Alla Puttanesca
Spaghetti alla Puttanesca was born and popularized in Italy around the 1960s. ABV combines tomatoes, anchovies, dried peppers, olives and capers, all of this to give strong, salty, rich, with some nice spiciness flavors for the sauce. In Italy, the meaning for Puttanesca refers to the temptation of a lady of the night. A mix of seafood is made and then is paired with the Puttanesca sauce. This dish is definitely a must have!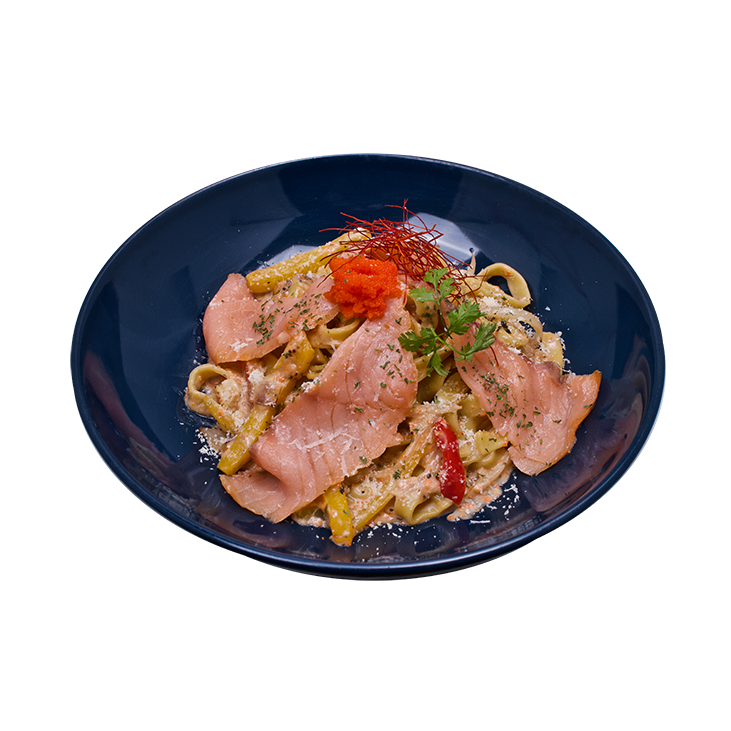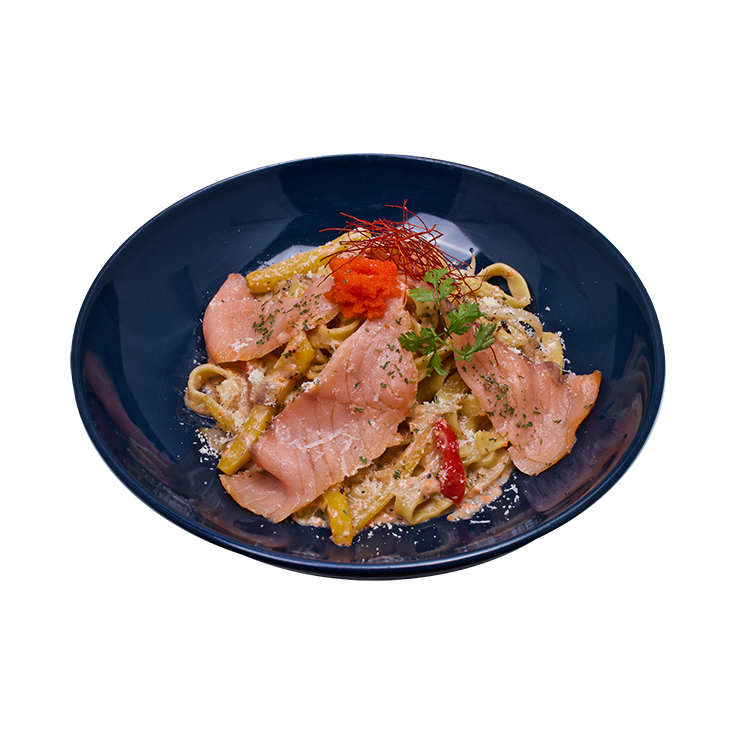 Fettuccine with Smoked Salmon and Caviar
At ABV we are proud of this dish since the smoked salmon for this dish is self-made. A cream sauce is made with a generous amount of caviar making the sauce mellow, also for the dish a generous amount of the smoked salmon is added without caring about the cost, a fettuccine that is full of smokey and seafood flavors.

Chicken Tequila Shot Fettuccine
From Mexican origins, the common liquor known as Tequila is similar to Champagne. It can only be called Tequila if blue agave is used to make this liquor! It has a strong herbal aroma, lemon juice, and cilantro. The tequila flavor is spread out all around your mouth, a way to eat Italian Pasta that you have never experienced before!

Roasted Beef Fettuccine with Truffle and Red Wine Sauce
Beef is roasted showcasing the natural strong and natural flavors of the meat while also leaving a nice springy texture of the meat. Red wine is used to add flavor to springy fettuccine and to make it smooth in texture and rich in flavor sour cream is used. To finish the preparation of the dish, truffles are mixed giving total satisfaction to the gourmand.

Meatball Fettuccine in Sausage Sauce
Compared to the traditional meat sauce, we use Spanish imported chorizo to use as ground meat. It has a thinner mouthfeel but it has more layers in terms of flavors compared to more traditional meat sauces and is also paired with our specialty meatballs and Fettuccine.

Creamy Vegan Fettuccine with Mushroom
ABV has designed a dish that is perfect for vegetarians, the dish has the following kind of mushrooms: Shiitake, button mushroom, brown and white beech mushrooms, and also black truffle sauce combined with a white creamy sauce, all combined with Fettuccine.

Casarecce
Casarecce with Fennel and Chorizo
The origin of the "Onion and sausage sauce risotto" is the dish is Siena, Italy. In this dish, one of the most important aspects is the onion and sausage sauce. Onions natural sweetness appears after sauteeing it, and then some Spanish chorizo is used together making the aromas of the sauce explode as you perceive them, it also has a nice and elegant cumin aroma, and after being put on a pot, feta cheese.

Casarecce with Garlic and Anchovy
ABV uses tasty white leg shrimp with slices of garlic, shredded anchovies, and hot peppers, then is paired together with Casarecce pasta that had been cooked first, and finally, some parsley and parmesan cheese are sprinkled.
Dessert
Bread Pudding with Apricot
ABV makes an egg-milk mixture with fresh milk, sugar, eggs, vanilla pods, and cinnamon, then use the mixture to wet some bread cut into squares, add raisins, bake this mixture until the top layer is slightly crispy, and finally add fresh peach, creating a marvelous bread pudding.

Cinnamon Apple Cake with Caramel
It originated from a monastery in the Macerata area in the 1809s. There is an interesting local custom. It is believed that eating walnuts can bring good luck, so adding dried almonds to the cake also adds texture to the soft cake. Meanwhile, caramel, apple and cinnamon are a classic combination.
Caprese Cake with Apricot
Originated from the beautiful island of Capri in southern Italy. The ABV chef team improved the original recipe, adding almond flour, blueberries and peaches to enrich the vision of the entire dessert.